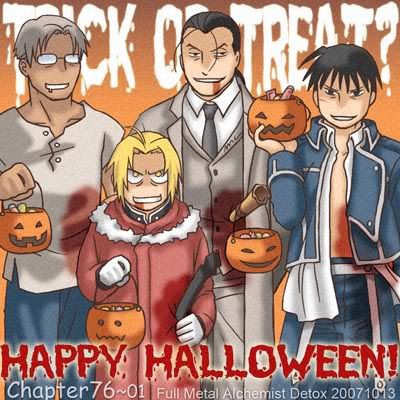 Wasted a whole day because I didn't realize Mustang got left out until it was almost done. (T_T) It's a huge
spoiler
and I was struggling on whether to make it into a Halloween card or not. But what the heck, it fits too well. Kind of like
last year's
too! As if Arakawa timed the bloody stuff for Halloween! The manga feels like it's moving sturdily towards the end. At this rate, there may not be another bloody card for next year. (T_T)
I'm still shocked from chapter 76. Don't think the brothers will die yet, but looking at that page really makes me hurt. (T_T)
Man, Arakawa is so fabulously good at story-telling! Just because Ed is the protagonist, he doesn't get special treatment. His face is drawn
twisted and deformed with pain and fear
. Quite scary, actually. This is one thing that I really like about Arakawa. She isn't attached to her own drawings, and
can keep an objective view of the big picture at all times
. Many other manga artists put too much emphasis on keeping the characters pretty, or having a flawlessly drafted background. Arakawa puts her effort into story-telling. (However, I'm not saying it's perfect. There's been a few glitches. But that's another subject.) Her drawing style is actually my
ideal
. Very clear and easy to read, with the right amount of details and contrast.
Back to the spoiler. This life-and-death crisis seems to have great importance. Perhaps Ed will finally
learn to kill
from this experience. From a fan's POV, it not pleasant, but it's necessary and inevitable. Part of growing up is to know what's more important. And there's nothing more important than one's life. (Yeah, yeah, you can have all sorts of beautiful ideals, but if you're dead, you can't make them come true.) As the manga says in the very beginning,
a lesson without pain has no meaning.
Oh boy... this one sure hurts. (>_<;) This month's installment is less than 40 pages again. 34 to be exact. Seems like the artist's schedule is impacted by her new manga. I wouldn't mind, though. It's even a good thing if the story is stretched longer. I don't want FMA to end. 大佐を仲間外れちゃったのを気付くのが遅くて、 一日無駄にしちゃった。orz 思いっ切りネタバレなハロウィーンカードで、すみませんね。(爆) しかも
昨年のカード
のパート2みたい。(逃)
実は、あまりのネタバレで、カードにするのがいいか悩みました。
でも、このタイミングで、あれが出てくるのは、
まるで荒川先生がそう計画したみたいに。(爆)
物語も一気に進んで、来年も「流血カード」を描けるかな・・・(T_T)
76話読んで、まだショック中です。(汗)
兄弟は死なないと信じてますが、
やっばり見る側まで痛くなります。(涙)
多分この危機で、エドが人を殺せる様になると思います。
残酷だけど、成長の一部で、必要です。
エドの表情に注目。
いままでに無い痛みと恐怖で、文字通り歪んでます。
この歪みは、戦いとか傷とかギャグとかは、別物です。
「主人公だから、いつもきれいな顔」 は、なし。
この描き方は、相当客観的な漫画家でなければできない。
だから荒川先生はただ者じゃないです!
今月も40ページ足らず。34ページでした。
きっともう一つの連載で忙しくなるよね。
もしこれで最終回延ばしたら、大歓迎!(爆)
だって、終わらないで欲しいですよ~(←わがまま)