Added Nov 12: Oops! Sorry the icons weren't showing! Guess uploading directly from my computer doesn't work. Had to fix them by pasting a few onto the same image. In doing so, the gif animation is lost. Sorry! ギャー!アイコンが表示されてない!気付くのが遅くて、すみません!再アップしました。 修正(画像の数を減らす)で、アイコン数個を同じ画像に納まりなければなりませ。動画も無くしちゃった。(汗)
Part 3, icon collection from free web graphic sites, and unions.
(Aaaargh!!! Damn Blogger! Can't get rid of the "frame" around the icons!!! And the layout is all screwed up!!!)
ハイデ命日企画第三弾、素材、同盟集。ハイデのアイコンを配布するサイトを紹介します。一人だと寂しいので、エドとアルも。(笑)
Awesome collection! Covers most characters in 3 styles.
Web graphic section completely disappeared! (T_T) There's been a change of theme too.
Excellent job on turning the Bandai Chima Collection capsule toys into icons! Plus a bunch of stuff from the manga, and originals.
Display error? Can't see the icons. These ones don't seem to be available anymore either...
The site itself disappeared! Probably closed down. (T_T) And I've seen some of the icons being used in banners or other forbidden manners.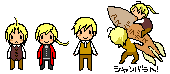 Not a big collection, but very cute and humorous.
The icon section is buried in the BBS page. This site probably has the most Alfons Heiderich content.
Union banners and a few mystery graphic: 同盟:
Alphonse Search (closed down) (T_T)
アルフォンスサーチ (閉鎖)
HxE Union
ハイエド同盟
Same Bed Union
ハイエド同衾同盟
Suspender Union (closed down)
サスペンダー同盟
(閉鎖)
DERICO_UNION
デリ子同盟
Dark Heiderich Union (closed down)
黒ハイデリヒ同盟

Hagahaga Union
ハガハガ同盟

Probably Munich Festival and Munich Brothers. (closed down)
多分ミュンヘン祭りやミュンヘン兄弟。(閉鎖)



Mystery icon...
(謎?同盟)