2006 Aug 21. Much fewer attendees because it was a
Monday
. Slightly less than 5 hours of sleep was starting to do weird things to my mind.
I managed to arrived at around 12:30. The first event I wanted to see was the
Lady Ashleigh's Tea Party
. But I was curious about the
Open Autograph Session
. (Still haven't taken a picture with Vic yet.) So I stopped by the area and ended up chatting with some cosplayers. Photos too, of course. Turn out Vic wouldn't be there.
My blood sugar got too low again so I had to find
lunch
first. More food places were opened although not the main cafeteria. And I was bad... to go back to the dealer and get the
key chain
. Just one, though. Not a set. The person standing beside me was looking at those key chains too. An arm reached out in front of me and... argh? An
automail arm
! Oh that's another Ed cosplayer! The Rush Valley Ed in
boxers
showing the
automail leg
too! Of course, would I let her go without taking photos? Nooooo...
Ate the sandwich at the main stage. The
Anime Walkof Finals
was in progress. All I saw was guys taking turns to show off their dance movies, and eventually taking their shirts off.
More photos of cosplayer as I slowly walked towards the tea party location. Only to find out they're just closing. Argh!! The site was kinda cool, though. A little square area enclosed by 10-foot tall bushes. Like an outdoor room with leafy walls.
As I walked back, I ran into the same
armour Al
from the first day resting under a tree! More photos! And I got to chat with him and another girl from out of town. Actually, one good way to hunt for Ed cosplayers would be to follow this armour Al around! Because he's an
Ed magnet
! Not just Ed but everyone else too. Hey, who doesn't want a picture of him?
Then I thought I was late for the
Candy Toy Crazy!!!
panel. Turn out I messed up the time and it was fine. There were only 9 people in the audience. Kinda disappointing. I was hoping that there might be a bigger community of collectors out there.
To my surprise, the speaker knows me! We actually met in a toy store a few years ago and exchanged URL. And, he borrowed a few pictures from my toy site for his slide show. I wish he'd ask first, so I can give him better resolution ones. The content of the lecture was geared too much towards guys too. Godzilla and monster toys. Mainly about the speaker's own collection.

The highlight was meeting some
ball jointed dolls collectors
at the candy toy panel. I was so happy because I missed yesterday's doll panel! We chatted for a while and they showed me their dolls. They're beautiful... but dangerous of course. At this point, I'd stay away from buying any because they're really expensive.
I wanted to see the The
Evolution of Yaoi: From Gravitation to Kyou Kara Maou
panel... but I couldn't find the room! Aaaargh! I was pretty tired and my mind left me. Circling around the building, I ended up in the
Charity Auction
room. They were selling a
bottle of water
autographed by
Vic
. Starting price $5, sold for $20. Then a
mouse trap
from yesterday's game session or something, that got a whole bunch of autographs on it, including the voice actor who played Rattrap in Beasties and Beast Machines. The bid was at $40 when I left the room.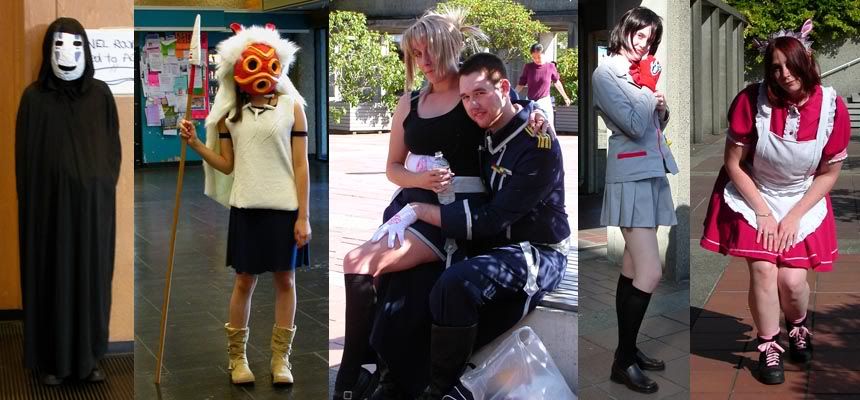 I ran out of energy and there was nothing else going on. So I just sat down at the main stage to wait for the
closing ceremonies
. More people were gathering too while the staff tried to organise VIP seating. Somehow they expected half the crowd to be VIPs but were shocked to see almost none! Nevertheless, they were pretty good at keeping the crowd entertained before the ceremonies started.
Then it was the final of
Anime Idol
. A girl vs a guy (sorry I can't remember their names). Both of them were excellent singers. After that, the announcement of various
contests' winners
. Argh! I won the art contest! Staff picked computer generated category! Yay~! And the prize was, a pair of
clipped-on bear(?) ears
!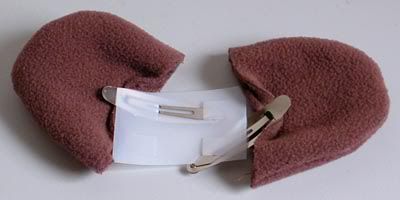 Cute! I wanted a pair of cat ears at the hat dealer's table but held off. Now these are perfect! The picture that won was the cat ear Ed + Alphonse in a basket. Maybe that's why the prize was ears although sponsored by
Copic
? I though it would be markers or some kind of art supply. But these ears are actually much better.

After that, was the presentation of a cheque to the
BC Children's Hospital
. It was from the Charity auction. They didn't count the
coat c
heck
money so the amount written on the cheque was incorrect. The total was around
$4500
. The number of people attended was
3602
. (Much fewer than I thought!) Then came the special thanks, and the other eye of the
Daruma
was painted in.
The final wrap up was a short documentary-touch
video
of the event. I'm sure it will show up on YouTube in no time. 2 people from Seattle forgot their
passport
at the coat check! (Yup, their names and city were announced.) Didn't see anyone going up to the staff. I wonder if they even stayed for the ceremony. Hope they got the passport back. Otherwise they can't go home!
A lot of cosplayer took
transit
in their
costume
. Including the armour Al! There was a
Shinji cosplayer
with his friends on the skytrain talking about how he didn't go home for 3 days, and thanks to a certain deodorant spray, 3 days
without shower
was no problem. Yikes... the last time I heard some one say that was when I was still working for a certain 3D animation studio. Nevertheless, the desire of photographing him completely disappeared.
Well, this ends my 3-day report on the event. Next year is Aug 17 -19. I might go again, depending on schedule.