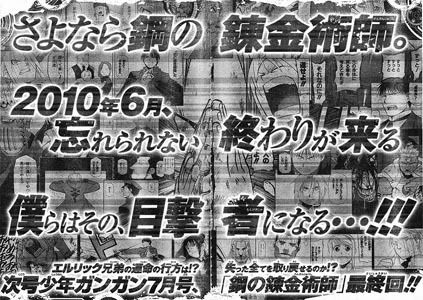 OMG OMG OMG OMG OMG OMG OMG OMG x 100...
Al~!
(T_T) (T_T) (T_T)
69 pages... that's over 1.725 times the normal 40 pages! Chapter 106 was 63 pages, I think. Chapter 105 was 65 pages. Arakawa, how did you do it?
Next month's chapter will be the last! Aaaaaaaaargh!!!! I'm gonna be depressed! (Hey let's hope Arakawa would keep drawing FMA side stories for a while.)
Oh dear... I don't think I can sleep now...
p.s.
For those who are looking for chapter 107's raw, there's a better quality English scanlation at OM.